The Best
_
Fifteen Years of the Net.Art from Share Festival
Explore the Artworks
vulnerability
hacking
copyright
knowledge
digital economy
data network
generative
interactive
online dating
data-gathering
digital space
virtual reality
Twenty-first century net.art uses the Internet as an art medium and cannot be properly experienced in any other way.
It is experimental and speculative art that shows a creative awareness of web software, browsers, addresses, domains, databases and the new, global, connected technoculture that arose around these infrastructures of the Internet Protocol.
It's conceptual art that is often critical, disruptive and even mischievous.
With this summary of fifteen years of our involvement in net.art, we at Share Festival are bracing ourselves for what comes next.
Amazon noir
Cirio, Ludovico, Lizvlx, Bernhard
This artwork eluded Amazon.com copyright protections through a sophisticated hack of the "Search Inside" service.
Complete digital volumes of books were obtained and reassembled into .pdf format, then redistributed for free. The hacking took place in the time when traditional publishers were persuaded to digitize and to get their publications available to Amazon.com.
The project generated wide press coverage and press inquiries to Amazon, which in turn denied both the hacking and the vulnerability in their system. This media performance was documented through various types of offline installations and with the appropriated books printed and assembled to match their originals.
More info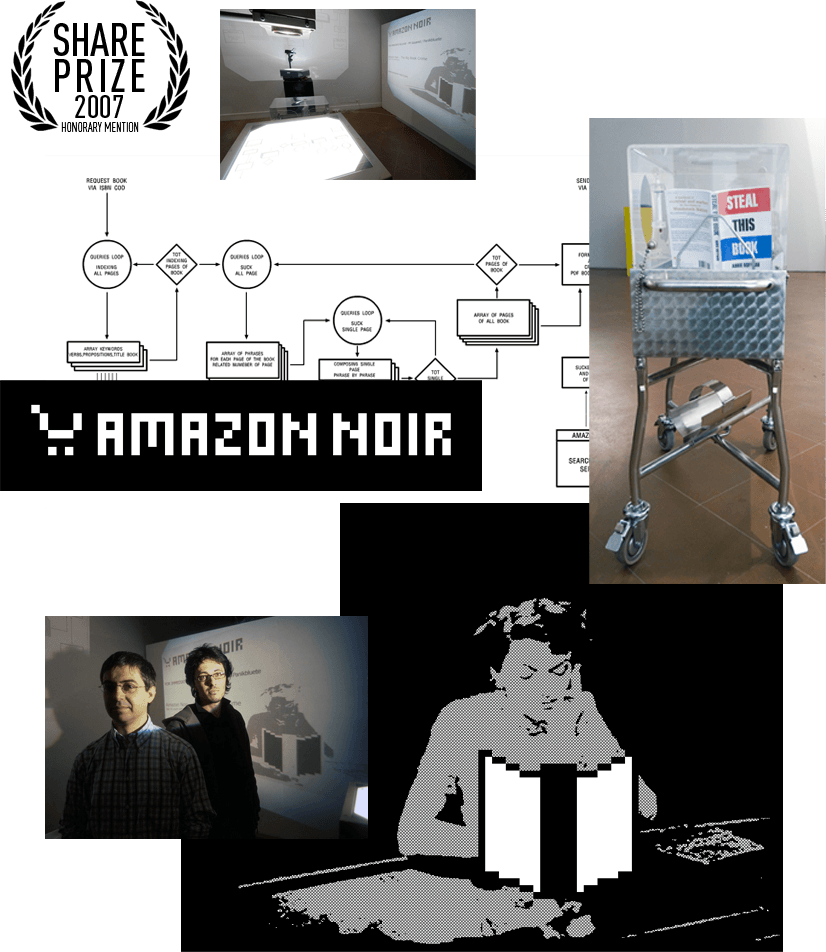 Sensity
Stanza
Sensity is a work built in real time with data collected from an urban environment and displayed as a dynamic installation, which can also be consulted online.
Sensity shows the intertwining that is created, the forces that intersect, which connected in a data network, can be re-processed and re-displayed as works of art.
More info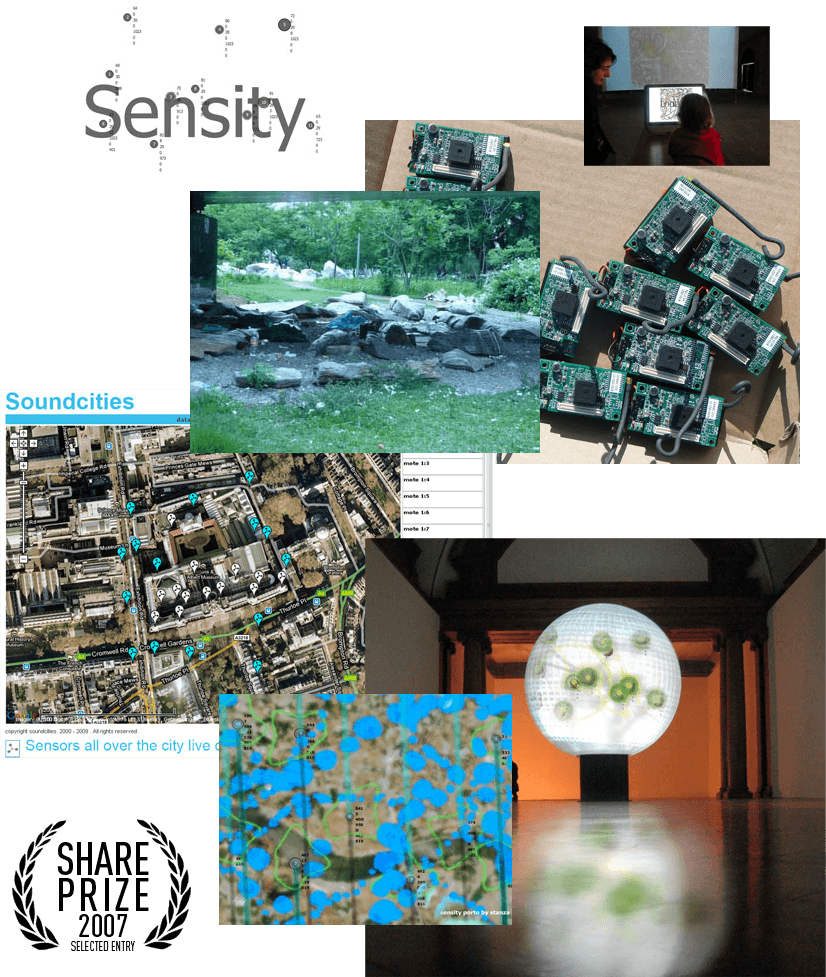 Proximity of needs
Lia
Proximity of Needs develops an interactive, generative, audiovisual system that endlessly cycles through sets of parameters, generating animations that in their turn generate final visual compositions.
Once the piece gets to this point, however, it almost immediately fades away both image and sound, overlaying their traces with a new composition, in an endless cycle that plays with retinian persistence, and focus on the impermanence of digital images and on fleeting wishes and the motivations that draw us towards them.
More info
Man with a movie camera
Perry Bard
Man With a Movie Camera: The Global Remake is a participatory, collaborative, and web-based video adaptation of Dziga Vertov's 1929 film Man With A Movie Camera.
As Lev Manovich has argued, Vertov's film is itself a database of loosely connected shots that synthesize a depiction of the working day in the early Soviet Union. Building on this database structure, Bard has created a platform where users may submit their own visual interpretations of any of the 1,276 shots in Vertov's classic.
Once uploaded, software developed specifically for this project selects from the submissions to collate a new version of the film, which is streamed on the site alongside the original with a soundtrack composed for the project by Steve Baun.
More info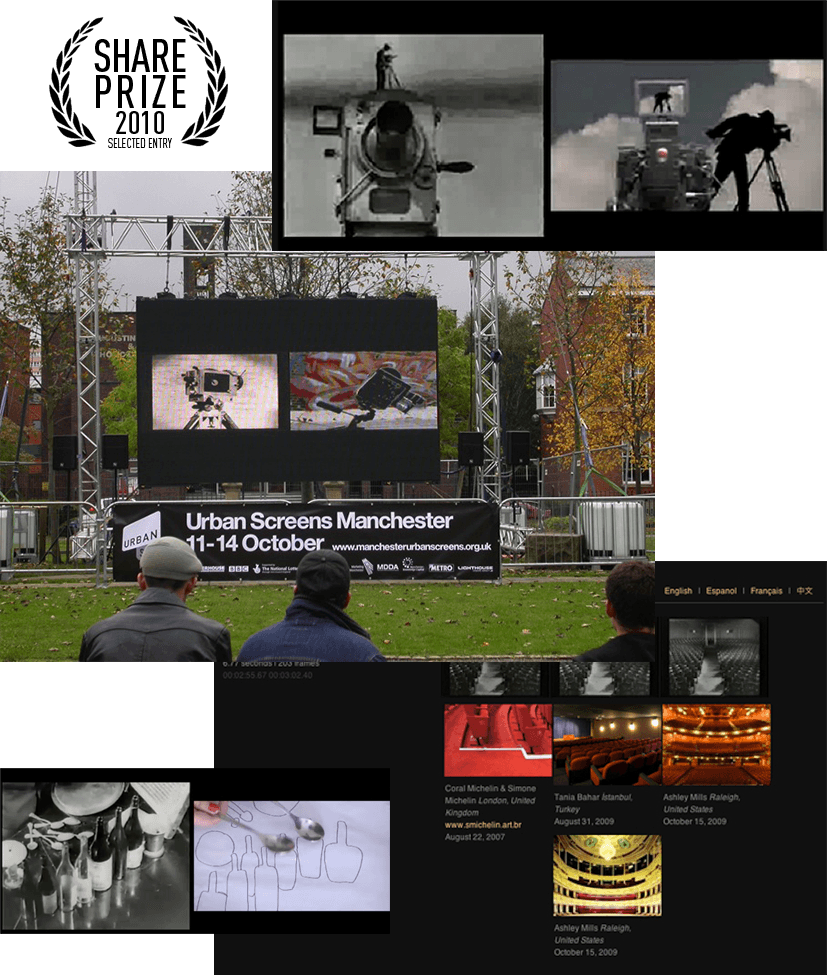 Face to Facebook
Paolo Cirio, Alessandro Ludovico
This artwork seized one million Facebook profiles and posted 250,000 of them on a custom-made dating website with profiles sorted by social temperament, which was estimated through trained artificial intelligence analyzing facial expressions.
The dating website, Lovely-Faces.com, provided a stage for anybody to interact with Facebook users' personality traits such as satisfied, easy going, or cute. The project took place over five days of thrilling personal, media, and legal reactions, which became a global mass media performance.
During the performance the artwork received over a thousand mentions in the international press, eleven legal threats, five death threats and several letters from the lawyers of Facebook, which had to face this artistic intervention made with its appropriate material and as a result of its security flaws.
More info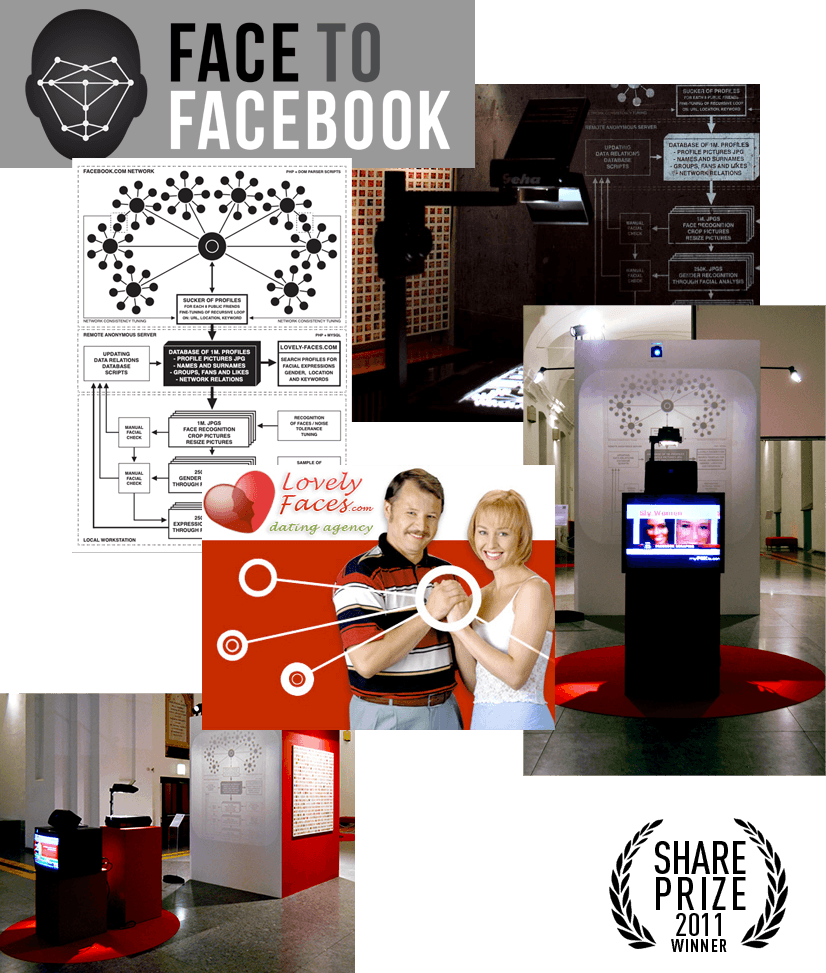 Social Turkers
Lauren McCarthy
In 2013, I went on twenty dates with people I met on an online dating site called OkCupid. I used my phone to stream these dates to the Internet. I paid remote workers on a site called Amazon Mechanical Turk to watch, interpret what was happening, and direct me what to do or say next. These directions were communicated to me via text message and I had to perform them immediately.
What if we could receive real-time feedback on our social interactions? Would third party monitors be better suited to interpret and make decisions for the parties involved? Could this make us more aware in our relationships, shift us out of normal patterns, and open us to unexpected possibilities?
More info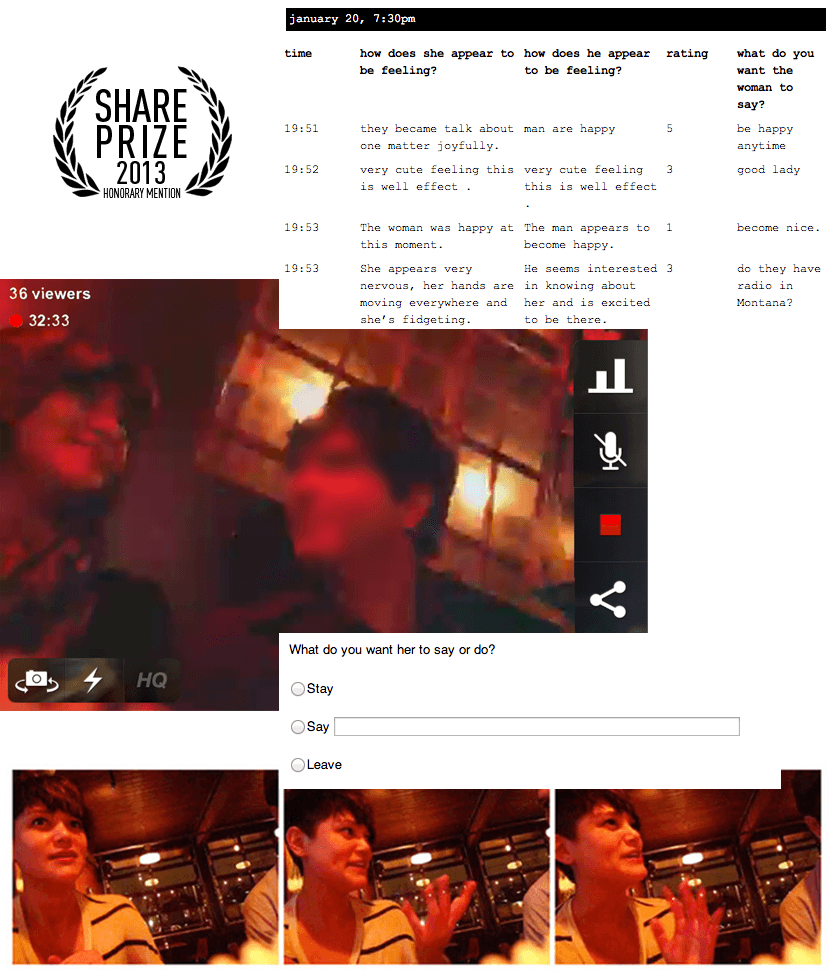 Follower
Lauren McCarthy
Follower is a service that provides a real life follower for a day. In order to be followed you answer two questions: Why do you want to be followed? Why should someone follow you? The following lasts one day, and you don't know when it will happen. At the end, you are left with one photo of you, taken by your Follower.
The Follower stays out of sight, but within your consciousness. What is the relationship between attention and surveillance? There are sites you can go to buy online followers? $10 can get you 1000 followers.
We have this intense desire to be seen, to feel connected. But is that desire really fulfilled by watching your follower count tick upward? Could a real life follower provide something more meaningful or satisfying? How does this fit with our fear of surveillance? We imagine ''the man'' or Google or the government watching us, but does it feel different if we know it's a real live human?
More info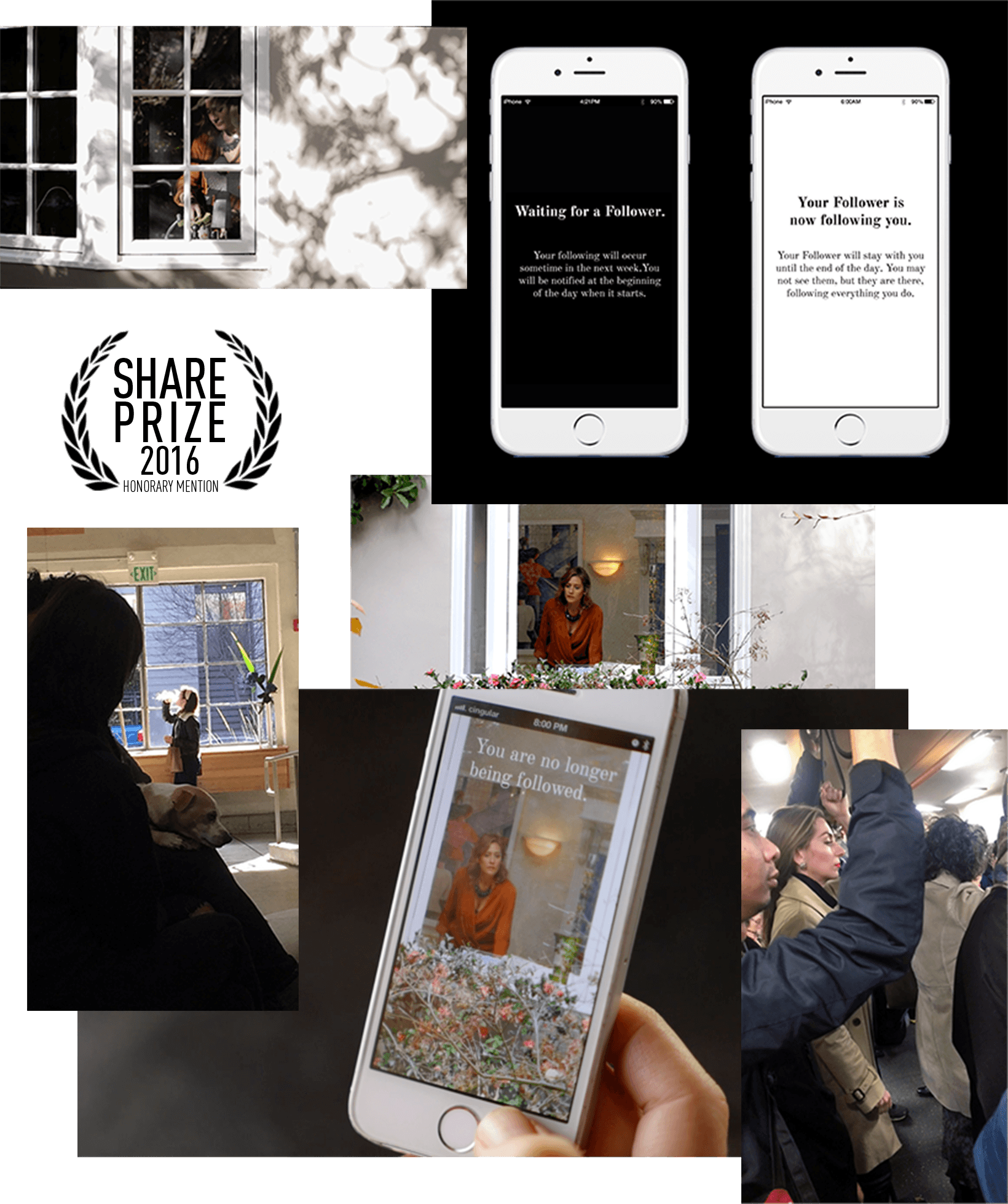 Social Netwalks
Ralph Kistler
With the web 2.0 began the massive analysis of personal data by tracing the behaviors and movements of users in social networks with the aim to identify common structures. The focus of attention however is not really directed to the individual consumer but rather to certain groups and their shared actions to identify trends or to promote products to a target group.This process of observation happens far away from any control and transparency.
The practice of data-gathering has now been put into a purely aesthetic context by filming a city square with a bird's eye view where a wide number of different people stroll into town. The footage was then analyzed and edited in order to organize the captured people in defined groups under specific characteristics. The new ironical combinations regroup the strollers in backpackers, people who walk the dog, cyclists, yellow plastic bags carrier, couples holding hands, wheelchair users and other groups.
More info
The Kiss
Apotropia
A contact between two bodies. An intense sharing of information. A chemical cocktail in the brain. The Kiss is an audiovisual work that explores a simple gesture acted out between two lovers.
An intense coming together of two bodies in the digital space. The work was created using motion capture, particle systems and real time randomization techniques.
More info
Line
Andrea Leoni
A line develops and marks its surrounding space in search of a composition strategy: it multiplies, enlarges, stretches increasing its size up to create more and more complex shapes. It invades all the space around striving to expand further, yet it will go all the way back, forced by a representation limit, to its simple and basic initial state.
More info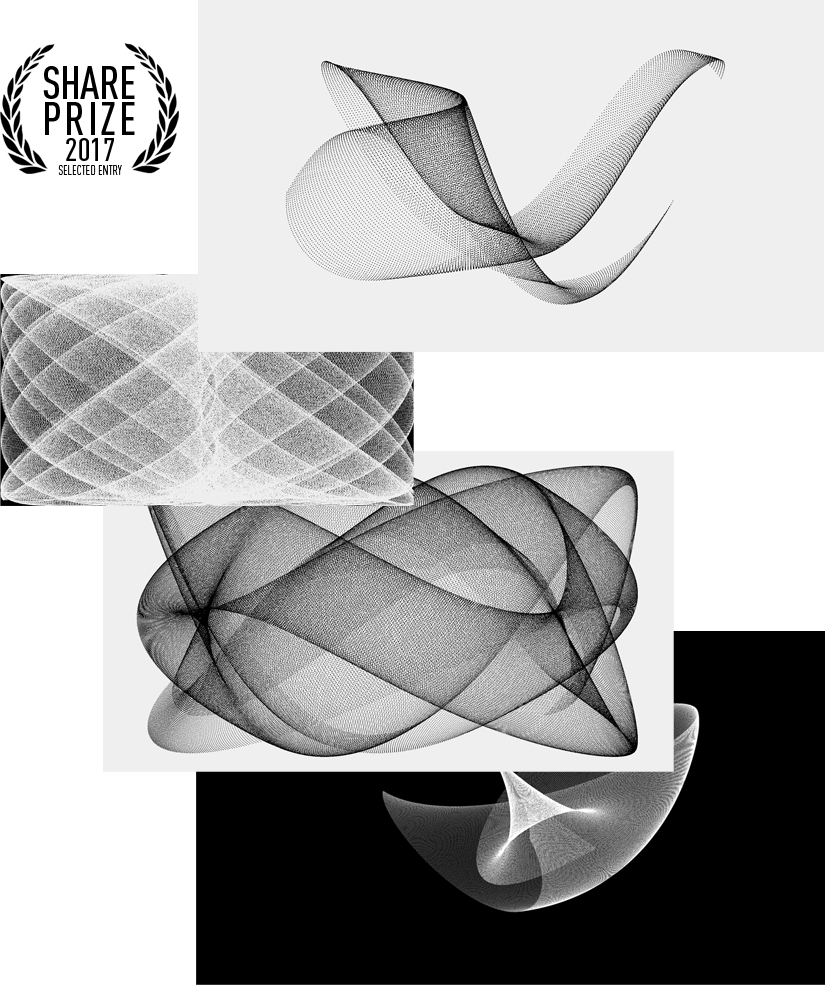 Off Shell
Apotropia
The work is a revisitation of the theme of "memento mori", used in the late Middle Ages to invite to reflect on mortality and the transitory nature of matter and earthly things.
The artists scanned their bodies to create 3D models, later replacing the faces of the models with skulls. The motion capture animation of these digital bodies gives life to an impermanent danse macabre, suspended in space and time.
More info
VR Free
Milad Tangshir
VR Free is a virtual reality experience, it explores the nature of detention spaces by portraying some fractions of life inside the Turin prison. The movie also captures the reaction of few inmates during their brief encounter with immersive videos of life outside of prison. By using VR headsets, the prisoners get to virtually participate in some public and intimate situations, which are no longer within their reach.
More info
The Sharing association deals with the dissemination of contemporary art that interacts with new media. Since 2005, The Sharing has conceived and produced Share Festival (now in its XVI edition), as part of the Share Project container, a complex and varied platform that combines the goal of promoting creativity generated by the use of new technologies with synergy between artistic and scientific research, organizing exhibitions, workshops, conferences, performances and training on a central theme, each year different under the artistic direction of Bruce Sterling.
With this philosophy, Share Project has developed, designed, produced and implemented many projects: Share Festival, Share Prize (international art prize), Action Sharing, SMIR, Share Crossing, Youth Museum and Share Campus, do.IT and the project Share Artmaker and Artmaker Gallery.
We are the cultural and artistic event bridging with the innovative world of digital makers, in osmosis with the heritage of SMEs and traditional crafts, the only cultural reality that has been combining art and innovation of international fame for almost twenty years.
The Sharing - Via Rossini 3 - 10124 Turin - ITALY +39.011.5883693 info@toshareproject.it
Born to be Online
Director: Chiara Garibaldi
Curator: Bruce Sterling
Art Director and Designer: Andrea Taddei
Project Manager: Francesca Ventura
Communications: Erika Bertolino, Stefania Ventura
Concept and Production: The Sharing
The Sharing
Via Rossini 3 - 10124 Turin - ITALY
+39.011.5883693 info@toshareproject.it
With the support and contribution of:
Thanks to the valuable contribution of the members of the jury:
Alex Adriaansen
Paola Antonelli
Massimo Banzi
Luca Barbeni
Roberta Bosco
Shedon Brown
Andy Cameron
Carolyn Christov Bakargiev
Angelo 'Motor' Comino
Samantha Cristoforetti
Régine Debatty
Giovanni Ferrero
Chiara Garibaldi
Rosina Gomez-Baeza
Andrea Griva
Gianluca 'Jazza' Guerra
Joasia Krysa
Jurij Krpan
LIA
Wolf Lieser
Simona Lodi
Vicente Matallana
Laura Milani
Stefano Mirti
Anne Nigten
Irini Papadimitriou
Domenico Quaranta
Emma Quinn
Carlo Ratti
Patrizia Sandretto Re Rebaudengo
Bruce Sterling
Gefried Stocker
Mirjam Struppek
Jasmina Tesanovic