Share Festival, the italian exhibition of contemporary tech art and science,
legata all'evoluzione tecnologica e alla scienza,
with the Artistic Direction of Bruce Sterling announces
the Jury of Share Prize XIV:
MAX CASACCI
Subsonica Musician and Producer, Creator and Composer project Earthphonia
ALESSANDRO LUDOVICO
Professor, Artist, Researcher, Chief Editor Neural Magazine since 1993
ERICA VILLA
Head of Programming on Science Gallery Venice,
Member of Science Writers Italian Association
JASMINA TESANOVIC
Share Prize Curator
BRUCE STERLING
Share Festival Artistic Director
Our international Jury will select six candidates for the award,
that will be invited to take part in the 16th Share Festival edition.
SHARE PROJECT XVI
Share Festival XVI Edition begins with a rich preview of top contents on line
The Italian cross-disciplinary art platform dedicated to contemporary art concerning technological and scientific evolutions Share Project, presents for the whole month of December, a calendar of online events on www.toshareproject.it, launching and supporting the next Share Festival.
Share Project changes again, adapting to the dimension of the current global situation, and proposes a new extended formula over time, among on-line and on-life.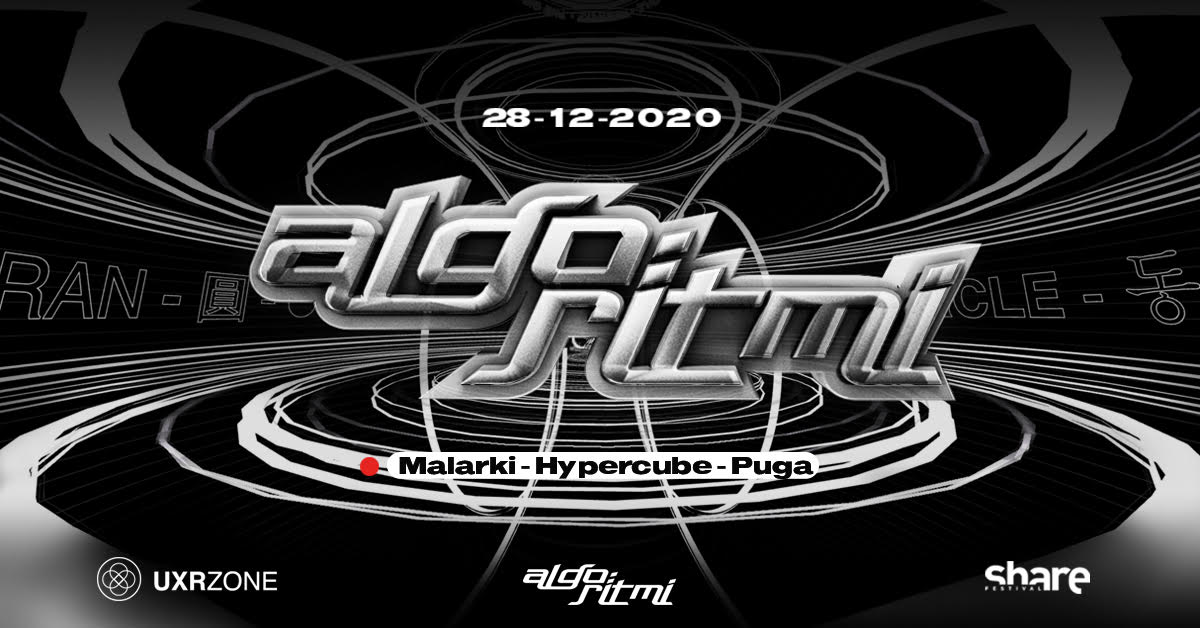 Algo:Ritmi & UXR.Zone
, together with
Share Project
, present a new live event of
SHARE PROJECT – STARTING
. Algo:ritmi is a new project where experimental music, live coding and immersive experience create a new cutting edge and innovative language between clubbing and contemporary art, focusing on coding and on its artistic and educational applications. STARRING: Hypercube (Rodrigo Passannanti) + reactive visual dell'artista 3D Dusky_CG, Malarki (Patrick Coleman) e Puga. The event will be streamed live at the VR Room – The Circle.
LIVE STREAMING
Ground – A common Experimental Night – Offlive Online
A full sensorial journey, which opened on the 12th of December 2020 with the sounds of Ground – A common Experimental Night – Off live On line, the first virtual live show after a long pandemic pause by the experimental music collectives of the Turinese scene Pietra Tonale, Comet, Audiohacklab and Noise Delivery. .
Then, you shall explore, with a click, a new experimental dimension, the virtual exhibition "Born to be on-line". A reflection that starts from the past and reaches the present, to imagine a shared future. An anthology of nine artists from the international scene:
Apotropia, Perry Bard, Paolo Cirio – Alessandro Ludovico, Ralph Kistler, Andrea Leoni, Lia, Lauren McCarthy, Stanza, Milad Tahngshir
They will present their digital artworks, already included in the Share Project database and selected by the Share Prize International Jury.
Among art events of Share Project – Starting, we will launch the Call for Artist for the XIV edition of Share Prize, live streaming on all web and social channels Share Prize is the Italian award dedicated to digital art, born on the Turinese territory and in ongoing growth over the last years.
The appointments continue with the presentation of Artmaker, Share's exclusive generative project which connects the world of art with the world of makers. For its official fifth edition it takes a new step forward with fresh ideas and contents, calling the selected artists to create multimedia prototypes and original artworks will involve the users in an open discussion to offer their point of view. An opportunity to discover together the new Artmaker Bag, with its analogical and digital tool kit.
Fablab For Kids
In collaboration with the historical partners' Maker Faire, FabLab, Officine Innesto, Share Campus is expanding with the proposal of two creative online workshops to involve the youngest:
"Create your first video game"
"100 Years of Bauhaus. Introduction to 3D printing"
With the aim of getting people closer to technology and science, the activities allow young kids aged 5 to 14 to take their first steps in the world of the skills of the future: coding, robotics, electronics, modelling, 3d printing, digital citizenship.
"We turn on the spotlight on the expressive world that exists in the dream of what is yet to come. In this new dimension, let's take possession of the digital space and let's stay together in the coldest months of the year. "
#staystrongstaytogether