House Guests
March 1, 2016 11:19 pm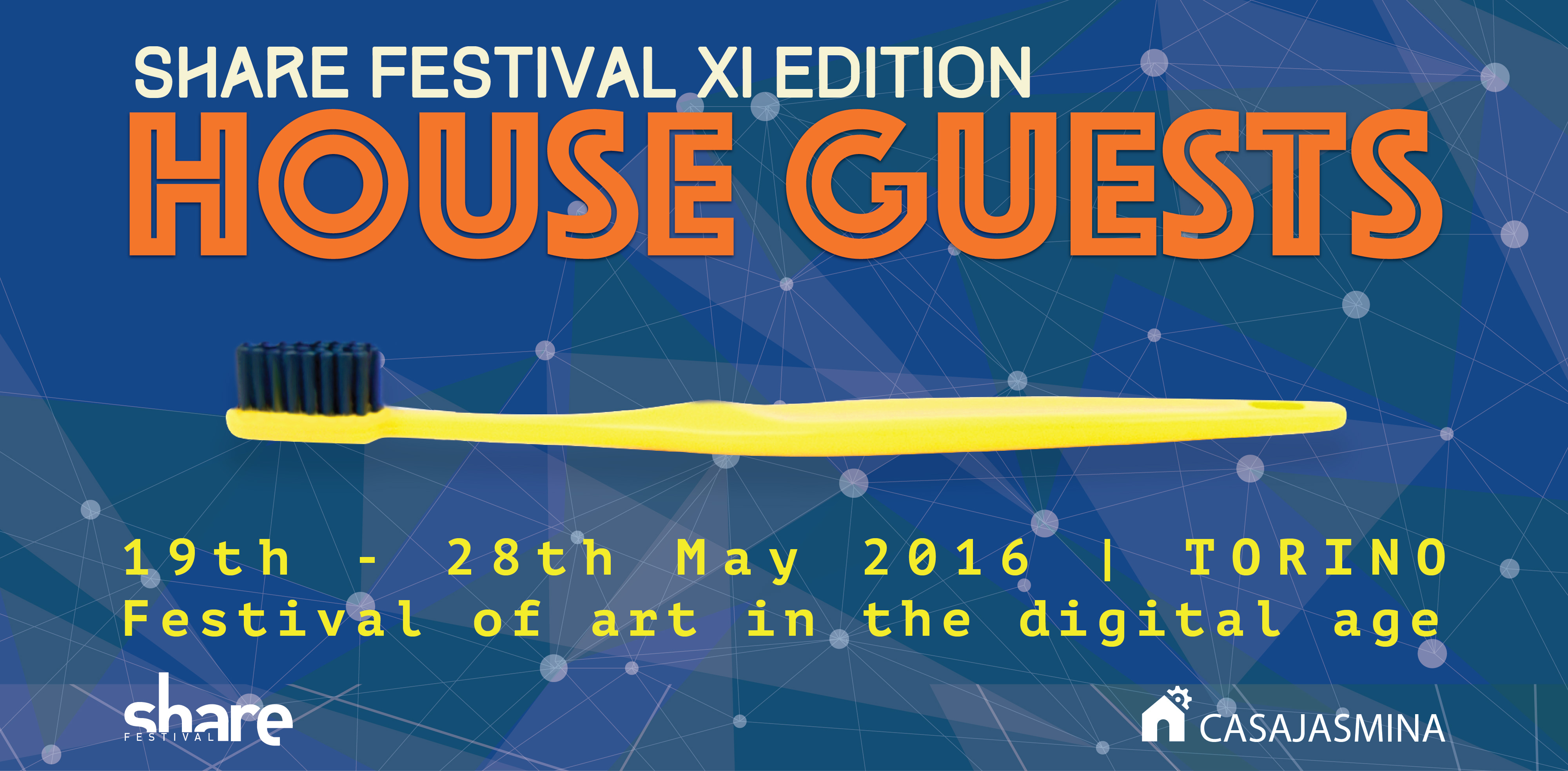 Piemonte Share Festival announces the IX° edition of the Share Prize , an international competition that promotes and supports contemporary art in the digital age .
It will be hosted in "Casa Jasmina" and FabLab Torino in partnership with Officine Arduino e Toolbox Coworking.
The eleventh edition will be lead by the artistic director BRUCE STERLING, writer, journalist and critic of the new media.
" Casa Jasmina " is a project in the business space of domestic electronic networking, or,"the internet of things in the Home ," a new way of housing related to open source .
From 22th December, 2015 until 21st February 2016 many artists from around the world have sent their projects for the edition of the Share Festival2015/2016.
The prize will focus on the use of electronic art inside the private domestic space :" House Guests" . 
What happens when net.art leaves the desktop screens, kiosks, and gallery installations, and becomes domestic art?
How can this provocative guest escape cyberspace and join the family?
When Internet art becomes "Internet-of-Things art," how can it flourish in the kitchen, the bedroom, the nursery and the terrace?
How do artistic property relations change as homes are permeated with internet and social media? Is this "house guest" a friend, a renter, a squatter, an illicit lover entering by the back door as the surveillance cams look elsewhere?
When digital art enters private ownership — much like the family portrait cherished on the wall — who owns that art, who collects it, who maintains it?
How do the children inherit the art?
What new roles can be played by the artist, the gallery, the curator and the patroness?
Is art for the house best made in the house itself?
The artistic director will chair the international jury of the ninth edition of the Share Prize composed of:
PAOLA ANTONELLI, Curator of the Department of Architecture and Design at the MoMA, Designer and Architect
SAMANTHA CRISTOFORETTI, ESA astronaut and captain Air Force pilot, protagonist of Futura, the second long-duration mission ASI
JASMINA TEŠANOVIC, feminist, activist, writer, journalist, translator and filmmaker of Serbia
CHIARA GARIBALDI, architect, designer, founder and general manager of Piemonte Share
On March 4th the Share jury will meet to select the entries for Share Festival. This event will include a public appearance in the afternoon by Paola Antonelli and Samantha Cristoforetti at Toolbox Coworking at 5:30pm, where they will discuss  technology art, design and the role of Italian women in contemporary creativity.
There are few free places for the talk of the March 4, 2016, we will open this Eventbrite link at 12:00 the 2nd of March, you can reserve your seat.