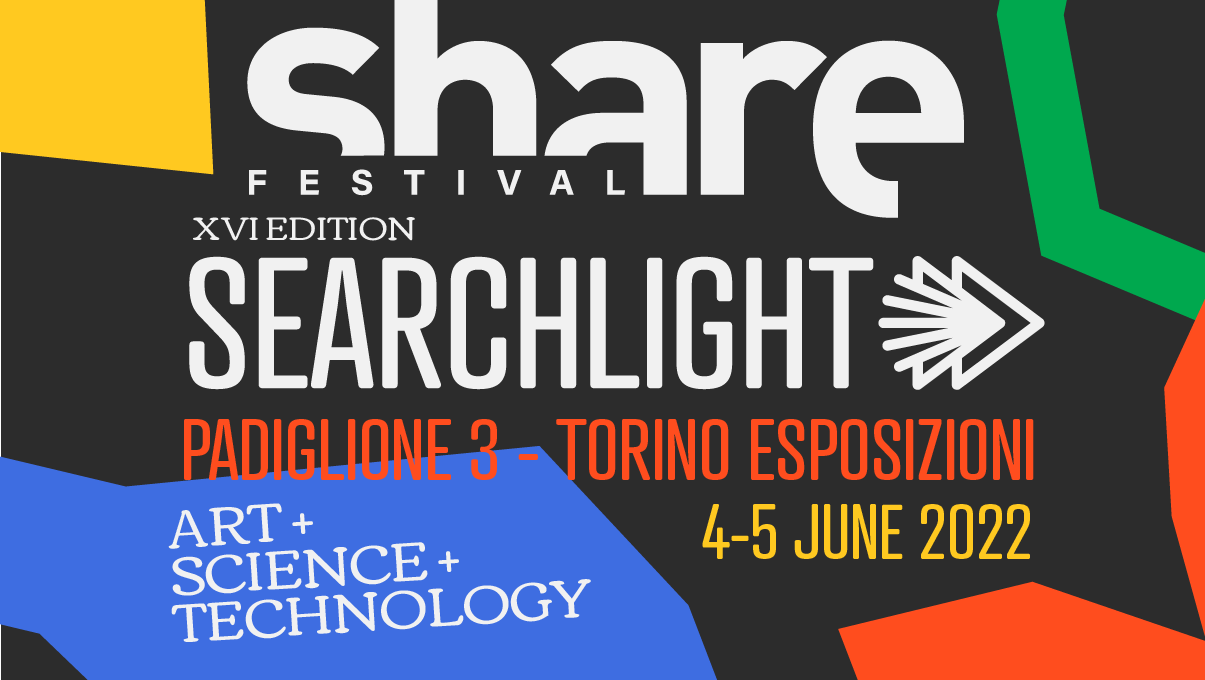 SHARE FESTIVAL XVI
Searchlight
4th and 5th June 2022
Torino Esposizioni, Padiglione 3
The new edition of the Festival that for sixteen years has brought new trends in tech art to Turin with exhibitions, conferences and performances.
A festival under the 'Searchlight' theme, written by the vision of our Artistic Director Bruce Sterling and Share Prize Curator Jasmina Tesanovic. A beacon of light that looks to the future …
Within the Share Festival there is the exclusive Share Prize Exhibition, an exhibition of the six works selected by the jury, this year composed by Max Casacci, Alessandro Ludovico, Erica Villa, Jasmina Tesanovic e Bruce Sterling.
The artists selected are:
João Alves (PT) – O Tempo Perguntou Ao Tempo
David Bowen (USA) – Plant Drone
Quiet Ensemble (IT) – Sole
Ooopstudio (IT)  – Bosco mistico
Lorenz Potthast (DE) – Screenization
Theresa Shubert (DE) – Sound for Fungi
There will be an exhibition dedicated to the Artmaker #5 generative project with the new works proposed by the selected artists. The Artmaker works produced by Share Project combine art with the excellence of the territory, businesses, artisans, makers and innovation.
The artists on show are:
Apotropia
Giorgio Alloatti
Carlo Gambirasio
Francesca Fini
Alessandro Sciaraffa
Diego Scroppo
Laura Viale
Filipe Vilas-Boas
The publication of The Task Lamp-RC, will be presented. It is a collection of stories and illustrations generated within the Share Campus educational program, in collaboration with Torino Creativa, Liceo Monti di Chieri e Accademia Albertina di Belle Arti di Torino.
Share Festival is also the second stage of presentation of the ambitious project Cristallo di Luce, a public work of art by Diego Scroppo, which uses a photovoltaic system to generate energy to be returned to the community.
At the same time there will be the VIII edition of Torino Maker Faire.
SHARE FESTIVAL XVI SEARCHLIGHT
4th and 5th June from 10.00 to 19.00
Via Francesco Petrarca, 39b Torino
Admission: 3 Euros
An event organized with the contribution of: Regione Piemonte, Camera di Commercio di Torino, Torino Creativa Fondazione Compagnia di San Paolo, Fondazione CRT, Goethe Institut.
In collaboration with: Torino Incontra, Torino Wireless, Officine Innesto and The Others
For more information: info@toshareproject.it