Share Festival Frankenstein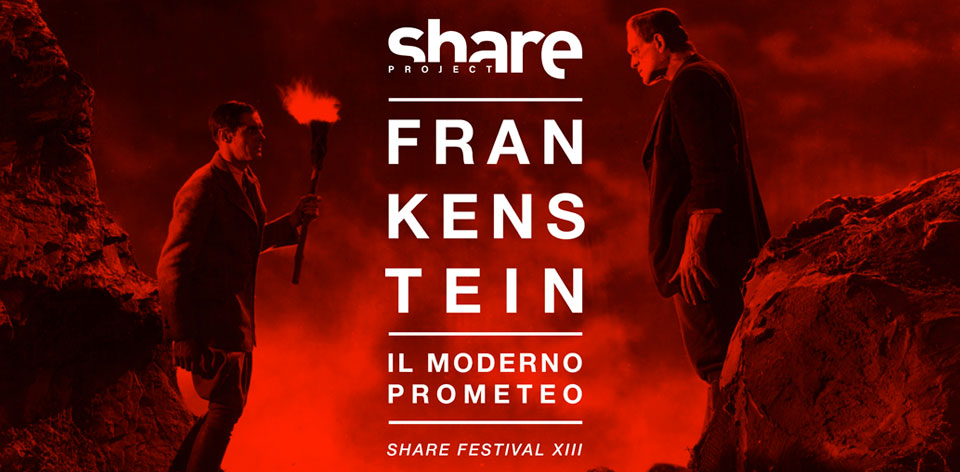 Bruce Sterling: "What can we say about Share Festival in its 13th edition? We can proudly claim that we are endlessly inventive, and that we persist! We are harder to kill than an unnatural monster who returns for an endless set of movie sequels. By choosing "Frankenstein: il moderno Prometeo" as our theme for 2018, we dare to compare our technology art festival to a 200 year old literary classic. "Frankenstein" is a work of fiction by a young woman who left her own country, travelled through Italy in search of romantic freedom, and was challenged by a great poet to describe the scariest, darkest thing that she could possibly imagine.  What she imagined, and described in her pages, was a triumph of technology with its roots in cruel classical myth. It was this continuity of the  past with the future that brought Mary Shelley such immortal fame. At Share Festival, we think of ourselves as a high-tech, forward-looking, technically advanced, international festival that nevertheless has deep, dark, all-enduring and endlessly fruitful Italian roots.  We're a digital cultural network that's like an ancient Piedmontese grape vine,  with activist volunteers who bottle a vintage once a year. In this episode of our festival we raise our pitchforks and pursue our mythic fears, by torchlight, into the full light of day.  Join us as we stampede toward tomorrow!"
Jasmina Tešanovic: Two hundred years ago this year, "Frankenstein" was first published. The author kept herself anonymous, so that no one would guess that she was a radical teenage feminist who had run off to Italy. Victor Frankenstein is a bright Swiss college student with a private lab. Victor secretly hacks dead bodies and builds a giant. One dark night, Victor "infuses the spark of being" into his superhuman creation. But "Frankenstein's Monster" never gets a name. He does have a mother — Mary Wollstonecraft Shelley — but he has never had any legal identity, not for two hundred years. Illegal, unethical, penniless and not even human, he's the ultimate clandestine refugee. This Nameless One has no family, no friends and no legal papers. He's a citizen of nowhere, lurching off the design table into a troubled, fragmented world of epic Greek mythic passions and torch-and-pitchfork mob riots. The Nameless One wanders the globe. He listens and learns by spying on people. Often he does free favors, and even works hard for no pay. Yet despite all these conveniences, people never trust the Monster. He exists; he grows ever bolder, stronger and more capable; but he can never really be one of us. When he "friends" people, the alien becomes even less human. He becomes a troll; he rants, rages, demands a female soul-mate, and plots cruel reprisals on innocent brides. Those who know him best are the ones who dread him worst. Must the Modern Prometheus suffer for his gift of fire? Must he be chased down with torches by an angry and panicking user-base? Will Silicon Valley ever have a Hollywood happy ending? SHARE FESTIVAL XIII is about the many powerful entities mankind has built, that are active among us, huge, strong, unloved, scary, mythic and Romantically tragic. They are alive! — but we are the children of Mary Shelley, and of Byron's daughter Ada Lovelace. What about them — and what about us?
SHARE FESTIVAL XIII EDITION
OPENING
Share Festival XIII Edition
Thutsday 31th May 2018 – 6,30 pm – 10,00 pm
TOOLBOX TORINO, Via Agostino Da Montefeltro, 2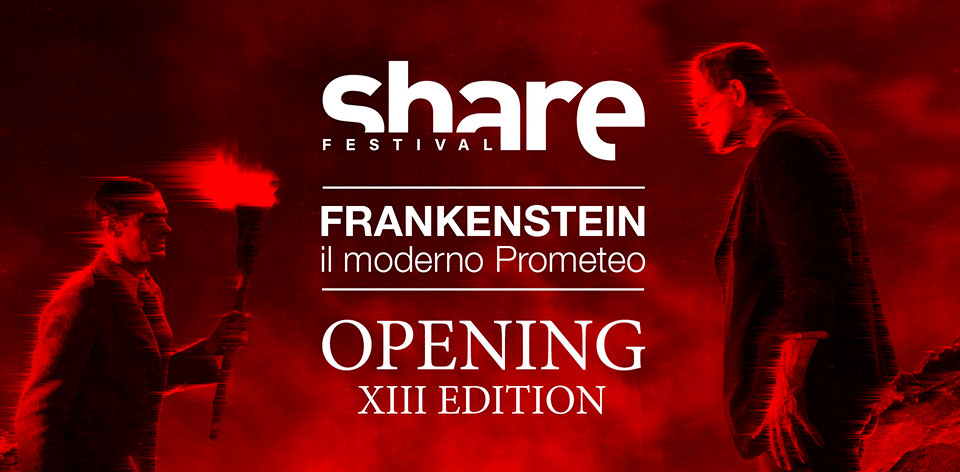 18:30 Opening 19:00 Prizegiving and Festival Frankenstein Presentation 20:00 Djset by Jazza
EXHIBITION
Share Prize XI Exhibition
1st/3nd June 2018 – exhibitions open form 10.00 am to 7.00 pm
TOOLBOX TORINO, Via Agostino Da Montefeltro, 2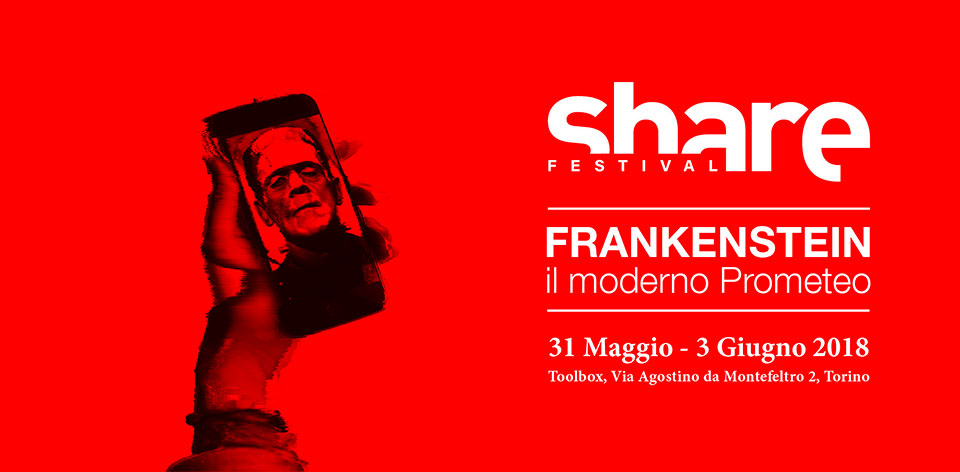 The Share Festival international jury composed by: Régine Debatty, Laura Milani, Gianluca 'Jazza' Guerra, Jasmina Tešanovic e Bruce Sterling – evaluated the artistic responses to the genuinely "monstrous" aspects of technology.
EXHIBITION
Share Artmaker
1st June – 3rd June – exhibitions open form 10.00 am to 7.00 pm
TOOLBOX TORINO, Via Agostino Da Montefeltro, 2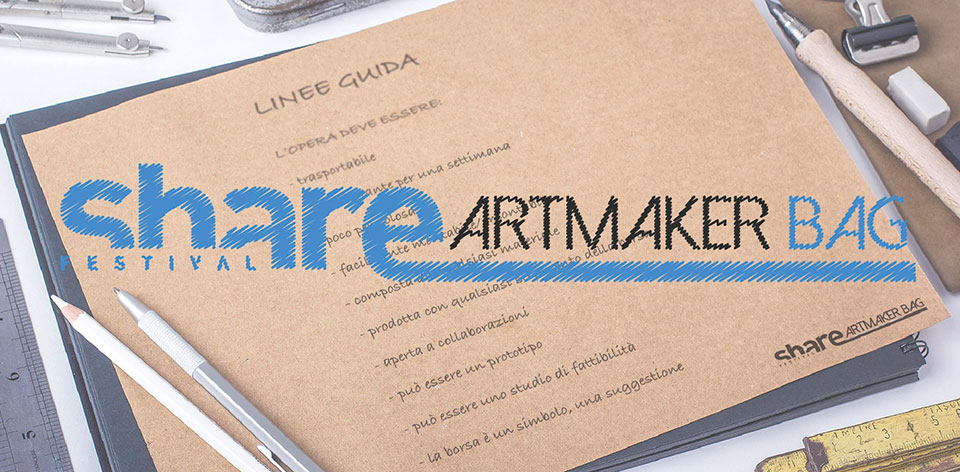 "Our Share Festival Artmaker reflects the demanding lifestyle of dynamic people who create net.art, interactive art, device art, electronic art and kinetic art. It is a global tool-set for local festivals, designed to be slung onto trains, taxis and ferries, and deployed at exhibits, wherever the artist may go. This bag carries our Share Festival name, so it should reflect our region's character. We chose ti include some handsome tools from the Italian craft tradition, and especially, from Turin's long industrial tradition". Bruce Sterling
CONFERENCE
Talking about Monsters!
Saturday 2nd June 2018 – 6.00 pm
Keynote Room, TOOLBOX TORINO, Via Agostino Da Montefeltro, 2
Bruce Sterling invite Juan Carlos De Martin e Wolf Lieser in a talk about the theme of Frankenstein. Bruce Sterling invites Juan Carlos De Martin and Wolf Lieser to discuss the themes of Frankenstein. Monster fallen angels, exploited by everyone yet rejected at the same time, the new languages, incomprehensible to most, capture un on the Web. Seduced by the chance to show off every single instant of our lives, we cannot control how our information could be used by strangers- humanity is caught is an unstable "web", like a sea of ice, where distance and separation render us all strangers, and the unknown creates monsters.
CONFERENCE
TRANSFRANKENSTEIN
Sunday 3rd June – 6.00 pm
Keynote Room, TOOLBOX TORINO, Via Agostino Da Montefeltro, 2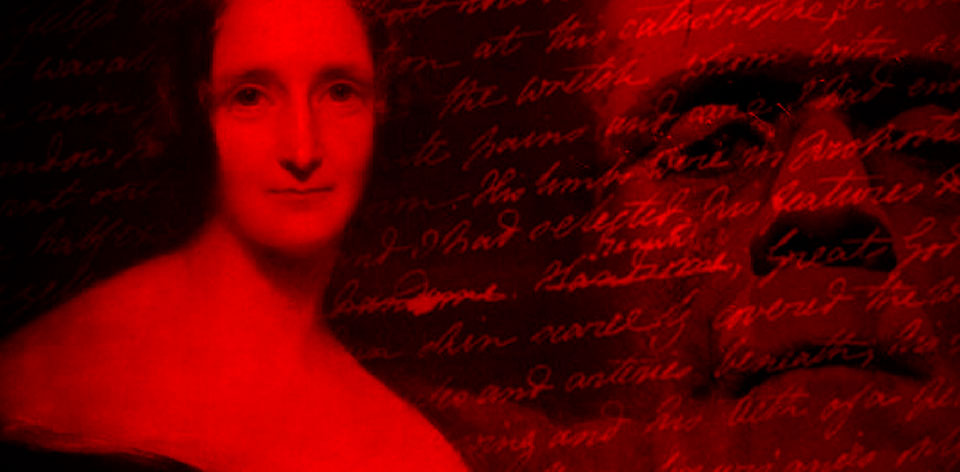 Jasmina Tešanovic invites the womens of Share Festival in a talk about the theme of Frankenstein: with Régine Debatty and Share Prize women artists.
XIII Share Festival
Organization & Production: The Sharing
General Manager: Chiara Garibaldi
Artistic Director: Bruce Sterling
Curators: Jasmina Tesanovic, Angelo Comino
Production: Francesca Ventura
Communication and Press Office: EriKa Bertolino
Graphic Layout: Giacomo Clemente
Setting: Chiara Garibaldi
Setup: Davide Trombetta
Translations: Antonella Emmi
Videos & Photos: Francesca Ventura, Giacomo Clemente
Web Design: Andrea Taddei
Jury Share Prize XI Edition
Régine Debatty: writer, blogger, curator and founder of  we-make-money-not-art.com
Laura Milani: President of Museo Nazionale del Cinema di Torino
Gianluca 'Jazza' Guerra: Communication Director of 'Trieste Science+Fiction Festival'
Jasmina Tešanovic: Creator of the "IoWT"  and curator of Share Prize XI edition
Bruce Sterling: writer, journalist, blogger and critic of the new media, Share Festival Art Director
Share Festival is held in
Toolbox Coworking: Via A. da Montefeltro, 2 Torino
Sponsors
Regione Piemonte
Fondazione CRT
Compagnia di San Paolo
Torino Chamber of Commerce
Goethe Institut