Exhibition at Toolbox
26th/28th May 2017
Our purpose with the Share Festival tool kit is to encourage creative work in technology art.
Traditional artists have well-organized art-supply stores. But if you're create the art-forms we more enjoy at Share Festival: interactive art, kinetic art, net.art, installations, device art and new-media interventions — you have no set place to go to find tools.
Commonly our favorite artworks are made in machine-shops, fab labs, design ateliers and research & development studios: big, roomy, saw-dust-smelling places with laser cutters and 3DPrinters. We're at ease with that reality, but with the Artmaker Bag, we're looking for something more personal, more portable, attuned to the needs of the itinerant creative-technologists whose artworks are put on display at shows like ours. worldwide.
"Everyday carry" portable tool sets are not a new concept, so at Share Festival we researched many of them, extensively. We then winnowed them out to meet the pressing needs of our sophisticated and canny tech-art demographic.
Safety should come first (though it rarely does), so many of these hand-tools are time-tested, stable in form, and rooted in the Italian craft tradition. Women's domestic craft gets extensive attention.
There are no power tools in the Artmaker Bag, because, although we do admire drill-presses and power-saws, we feel that heavy, high-voltage tools are best deployed in a controlled studio setting. Instead, we feature tools for light electronics and precision mechanics, for artwork maintenance and repair, and for prototyping exercises. The Artmaker is a tool set you could take on sabbatical; it can't do everything, but it's inspiring, human-scaled, a pleasure to use, and can manage a lot. If you're a teacher, these are a set of tools that might do well in class projects.
Commonly, people who invent tool-sets want to sell them. We don't do that. We're a culture festival, and we want to share. So we've assembled a round dozen of these Artmaker tool bags and offered them as personal gifts to Share Festival supporters.
We've asked creatives we respect to use the Artmaker tools to create artworks for Share Festival 2017. The resulting works will be put on public display in Torino, to show what can be done with a set of hardware that fits right over your shoulder.
Since these tools are genuinely being used for artworks, we're pretty sure we'll get a lot of suggestions for improvement. We will improve the Artmaker kits; we'll take advice gratefully and assemble better versions. But, we won't sell them. We like the idea of a working tool-set that is never commercially available, and is presented in the world as a formal gesture of artistic respect.
The Share Festival Artmaker Bag should be personalized, and iterated. It should make the happy creative who possesses it feel more cherished, authentic and expressive. We hope the Artmaker Bag will be prized; not because it is an art prize, but because it's an act of moral support.
Bruce Sterling
Bruce Sterling / Bruno Argento
Tribute to Nelly Ben Hayoun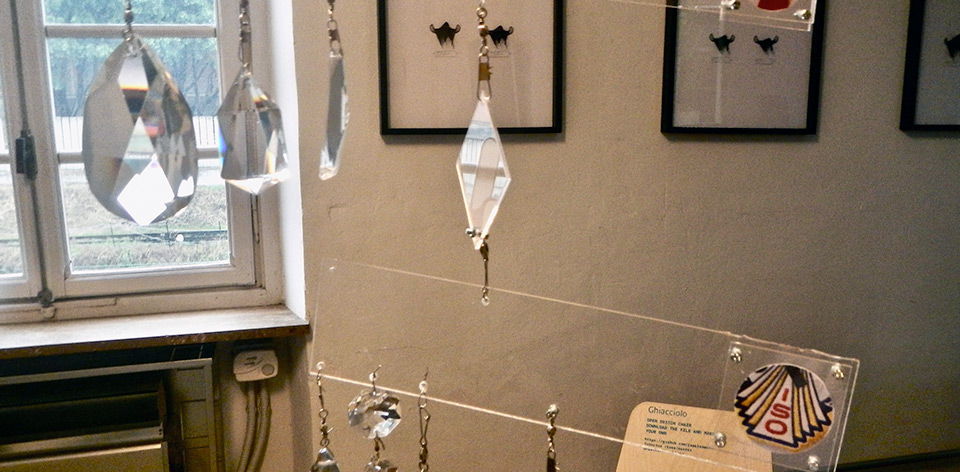 'Tribute to Nelly Ben Hayoun' is a motor-powered mobile sculpture that reacts in real-time to the fame of French speculative-designer Nelly Ben Hayoun. The more often Nelly's name is mentioned by her many social-media fans, the harder the motorized fan blows, causing the mobile to float in a delicate breeze created by Nelly's growing reputation as an international design star. "Tribute to Nelly Ben Hayoun" is the artist's gift to a personal friend. This open-source artwork was created at Torino Fab Lab with technical expertise from Officine Innesto.
Bruce Sterling is an American novelist, journalist, technology-art critic and one of the directors of Share Festival.
Sergio Barboni
Vanity Mirror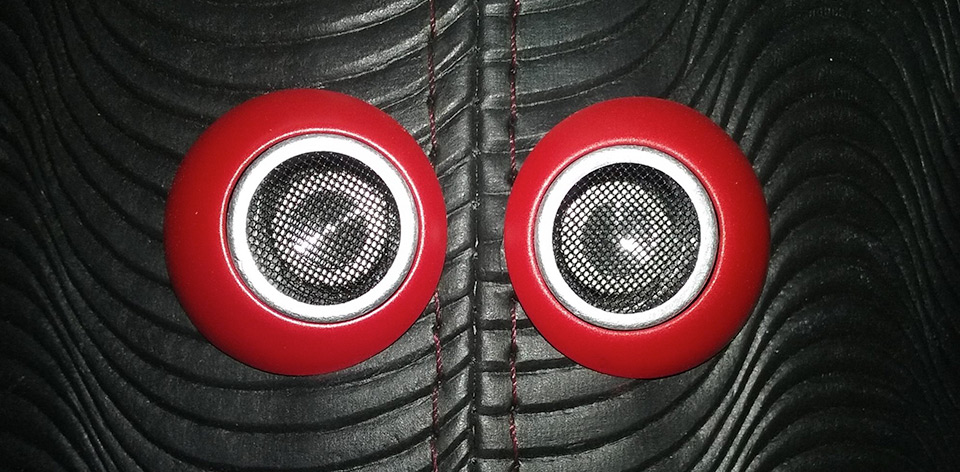 'Vanity Mirror' is a digital version of the magic mirror used by the Wicked Queen in Snow White and responds to humankind's widespread need to be the centre of attention, where exhibitionism insistently demands the approval of others. In an era of social networks, selfies and "likes", in a society that pushes towards a general levelling and as a result is increasingly more competitive, exhibiting one's own individual peculiarities has become increasingly necessary. Vanity Mirror is, therefore, an indispensable tool to satisfy the desire for emergence and self-esteem in every individual.
Sergio lives and works in Turin. He has always dealt with themes that explore and denounce the abuse of power in contemporary society in the social sphere. Thanks to his eclectic background, he has experience in working with a variety of techniques and materials, ranging from sculpture, to installation, to industrial design. His preference is for the use and transformation of recycled materials that when re-interpreted acquire a new identity.
Fabio Battistetti
Stammi Vicino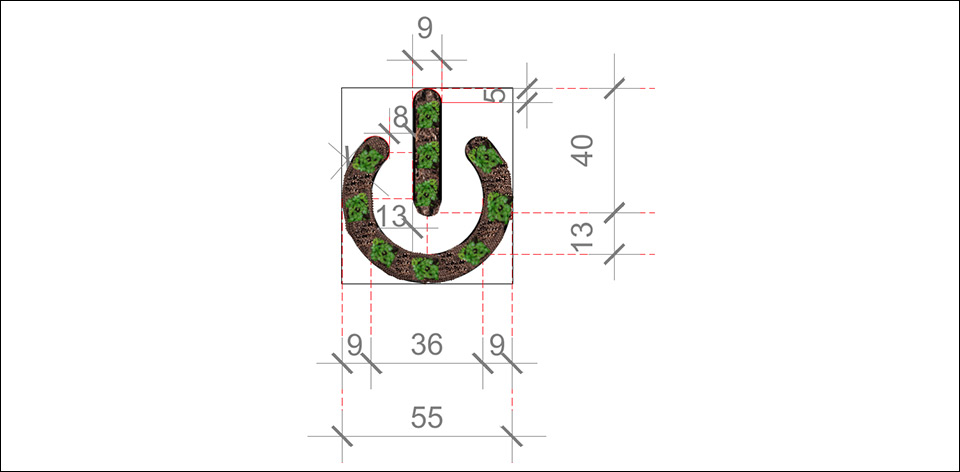 His terracotta vases reproduce the stand-by symbol and contain a plant belonging to the Brassicaceae family of flowering plants, which have the capacity to absorb metals present in the air and earth. The stand-by symbol is, in reality, used on the on/off buttons of the electronic devices we use every day, without us ever noticing it. Technology has become inherent in us. Standing close, we switch off technology and switch on ourselves by taking care of a plant.
Fabio Battistetti is a sound and visual artist whose creative work uses hybridisation within a process of relating to the natural environment as something with which to interact. His artistic approach is empathetic and builds interconnections between a vast array of influences, from glitches and fractals to minimalism.
Serena Cangiano
Connected Four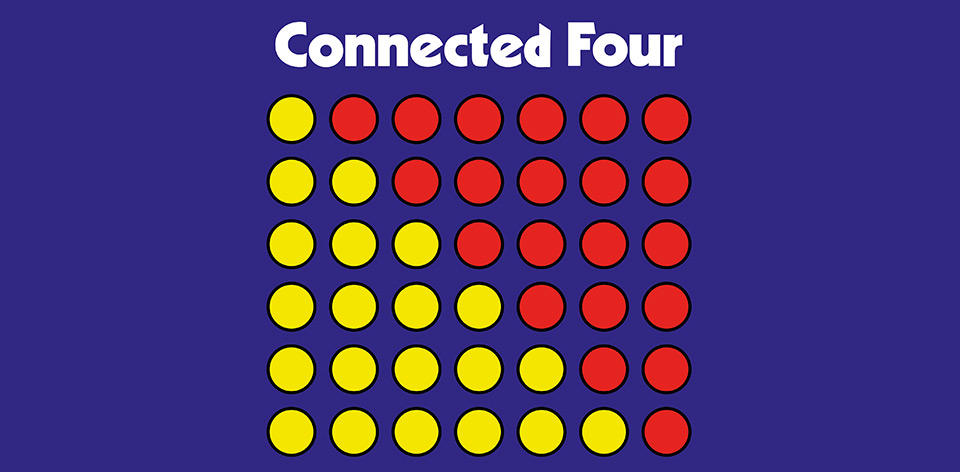 'Connected Four' is an autonomatic and Web-linked version of the famous board game Connect Four. In Connected Four, the players are concepts, people, things, and coded systems at the opposite ends of a value scale. The game revolves around the eternal conflict between these values and the impossibility of understanding the game rules, secretly encrypted by the black box that controls the game. The players and their moves are generated by Twitter hash-tags. The game is never-ending, but the score and which of the two players is temporarily the mysterious winner can be controlled through the Web. The black box generates game rules which, like the rules of all major systems (like politics, war, media information, and big data-based statistics) are not transparent or revealed to people.
Media: Connect Four, plexiglass, neopixel LEDs, wood, ABS frame, Twitter, mysterious algorithm
Connected Four is designed by a collective of interaction designers and developers based in Switzerland, consisting of Serena Cangiano, Fabian Frei and Marco Lurati. The three designers develop interactive installations, machine learning systems, DIY electronics and digital fabrication projects, using approaches connected with the open-source and maker worlds.
Carlo Galli
Ritratto di Generale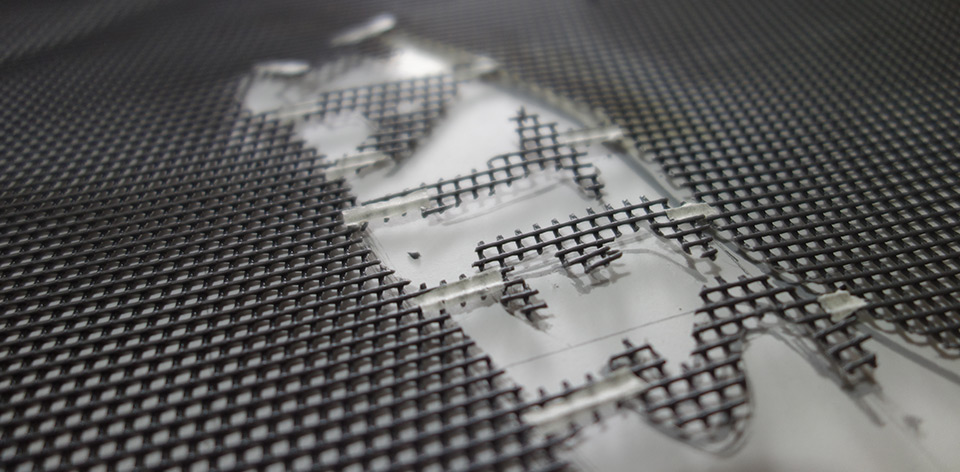 Ci sono cose da fare ogni giorno:
lavarsi, studiare, giocare
preparare la tavola,
a mezzogiorno.
Ci sono cose da fare di notte:
chiudere gli occhi, dormire,
avere sogni da sognare,
orecchie per sentire.
Ci sono cose da non fare mai,
né di giorno né di notte
né per mare né per terra:
per esempio,
la guerra.
(Gianni Rodari)
'Portrait of a General', made by overlapping layers of fencing, sewn together with nylon thread. The portrait is inserted in an oak frame fitted with ultrasound sensors that make it interactive. When nearing the work, the viewer progressively activates a series of LEDs inserted inside the frame. The LEDs give the portrait a uniform backlighting which brings it into focus and lends it a sacred aura.
He has been a visual artist since 2005. Lives in Milan, where he works as a fine arts teacher. He represents tridimentional space through a bridge between intervention and meditation. In his career he developed many kind of technical skills, propensity for the grotesque and the irreverence about what is considered superior or sacred He is seeking the type of communication which transmits information with any other interlocutor and he is interested in sharing a simple and clear message that can reach everyone, everywhere.
Alessandro Sciaraffa
The Shadow of the Sea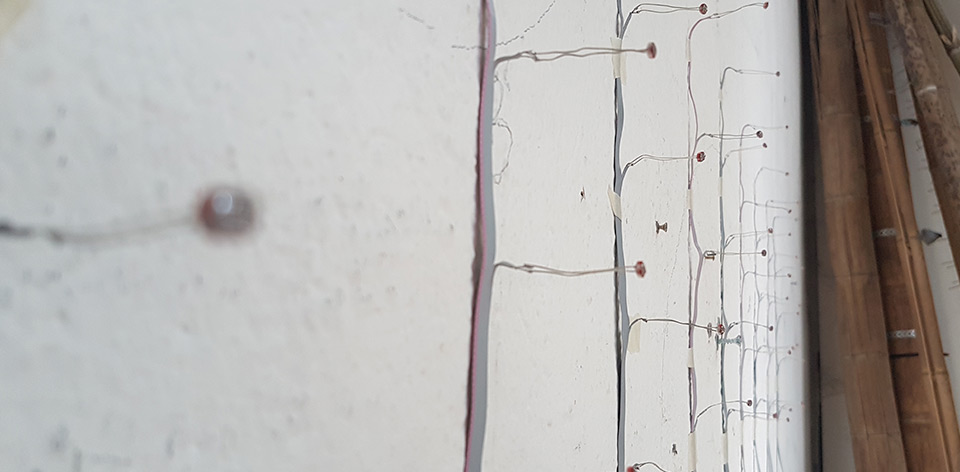 The Shadow of the Sea looks at the relationship between light and sound, between sculpture and performance. White sound, like white light, encompasses all frequencies audible, or all information visible. By using shadows, noise can be shaped and transformed into the sound of the sea. A photosensitive circuit positioned on the wall transforms a simple gesture into music.
Born in 1976 in Turin, where he lives and works today. He graduated in Architecture at Politecnico di Torino, studied at the Fondazione Spinola Banna and graduated from the Designing the exhibition course at the Domus Academy in Milan. Winner of national and international awards, he exhibited in Turin at the Fondazione Merz, the Gallery of Modern and Contemporary Art and the Sandretto Re Rebaudengo Foundation. His artistic work focuses on experiments in sound and music, with an emphasis on
performance and sculptural installation.
Diego Scroppo
Solo suoni d'estate
'Solo suoni d'estate' is a sound and luminous work that reproduces the atmosphere of a summer evening in a place on the edge between the garden and the woods. While the widespread sound plays the lively nightlife out of town – a swarm of noises and sounds produced by innumerable animals and plants of every kind and size that seem to produce music – the choreography illuminates the lucerne that manifests in these clear summer nights , Flying and crawling, intermittently. The intent is to evoke its chromatic and sound poetry, remaining at the limit of the paradox between the summer, the bright season, and the winter.
Diego Scroppo was born in Turin in 1981 where he graduated at the Albertina Academy of Fine Arts in 2005. Among the most significant experiences was a curatorial training course at the Unidee Art City, Pistoletto Foundation in Biella and an artistic project in collaboration with the " LeFresnoy Institute in Lille. She is part of the Spinola Banna Foundation's students group for art. He has two personal exhibitions at the Guido Costa Projects gallery and two at his "ghost space" and various international collective exhibitions including the "Nothing but Sculpture" Carrara Sculpture Biennial in 2008, the International Biennial of Young Artists at RuArts Foundation and Gallery of Contemporary Art in Moscow in 2008 and Videocontamination. Fiction / Reality, Rivoli Castle, Museum of Contemporary Art in 2015.
Silvia Mangosio, 1988. Graduated in 2010 in photography at the European Institute of Design in Turin, she enrolled in the Master of Higher Education on the Contemporary Image of Photography Foundation in Modena. Meanwhile, he participates in a short residency on the Gran San Bernardo hill with the Mountain Photo Festival in Aosta and a six-week residence in Edinburgh at Stills Gallery. The final project of the biennial Master's course, Memoriamatic, won the second prize at the Fondazione Cassa di Risparmio in Modena in 2013, and since then participates in several collective exhibitions. In 2013 and 2016 he is among the finalists of the Francesco Fabbri Award for Contemporary Arts. She currently lives and works in Turin.