The Artmaker project, the latest addition to the Share Project platform, was launched in Turin in 2016, the brainchild of Bruce Sterling and Chiara Garibaldi. It offers new opportunities to artists, designers, companies and the public. We are set on pushing the limits of the art that interfaces with new technologies. This project has given rise to a unique constellation in Turin, which orbits around what we call creativity 5.0.
Artmaker is a research project based on the idea of creating prototypes and tech art works by applying the maker approach to new technologies.
Artmaker sets out to be a source of inspiration for a new kind of artist, fostering new skills, making contemporary technology familiar and promoting new artistic languages.
The project, now in its third edition, is constantly growing: every year we start by seeking out stimulating materials and tools, both analogical and digital, which are packaged in the Artmaker Bag. The bag is the symbol of this experience, and is given to our artists as a gesture of respect. The artists, selected from The Sharing database by the committee, are asked to use the tools to create works of art or prototypes. During the creative process the artists are supported by Share Festival staff and makers from Fablab and Officine Innesto. Each year, staged in the context of the Share Festival, the Artmaker exhibition reaches out to the public and fellow creatives. The initiative has seen a consistent growth curve over three years.
In 2019 The Artmaker project turns 3 and boasts:
– 17 featured artists – 6 makers who have worked closely with the artists – 2 coders who have worked with makers and artists – 3 Artmaker exhibitions presented during the Share Festival – 18 works produced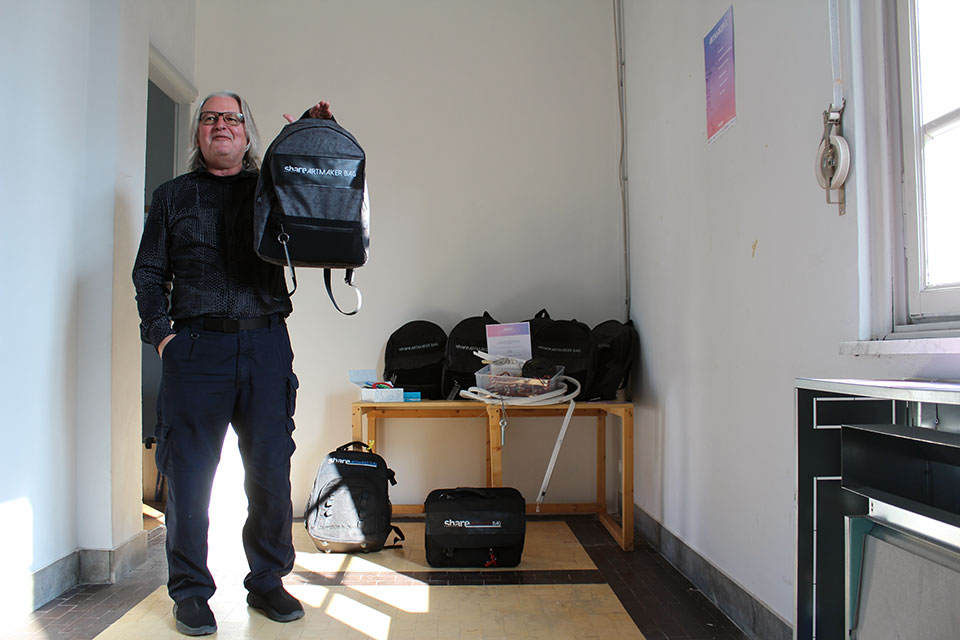 THE ARTMAKER BAG
Each edition of the project means a new model of Artmaker Bag, in line with the organic evolution of ideas, technology and materials. The experience can be summed up by the three bags made so far: the three souls of the Artmaker project. The first was a shoulder bag, perfect for use on a construction site, packed with solid, heavy utensils. The second was a functional backpack, ideal for travelling, globally-minded artists, while the third is a handmade creation with an exclusive design, light-weight and crafted from refined, durable materials: the most elegant of the three, most in touch with its feminine side.
ARTMAKER 01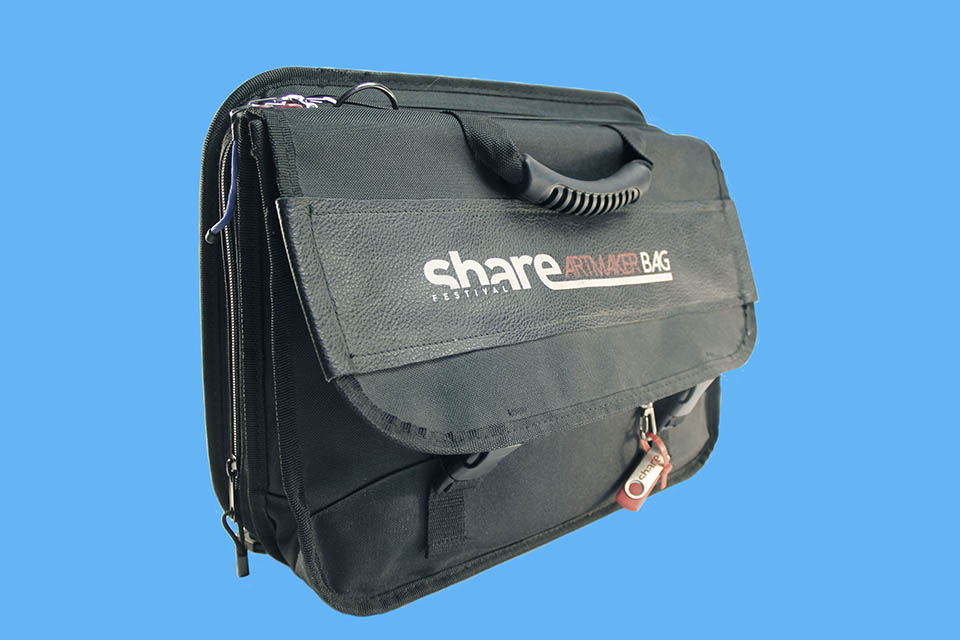 "[…]Ci piace l'idea di un set di strumenti di lavoro che non è mai disponibile in commercio e viene presentato nel mondo come un gesto formale di rispetto artistico. […] Speriamo che la borsa Artmaker venga premiata; non perché è un premio d'arte, ma perché è un atto di sostegno morale." B.S.
ARTMAKER 02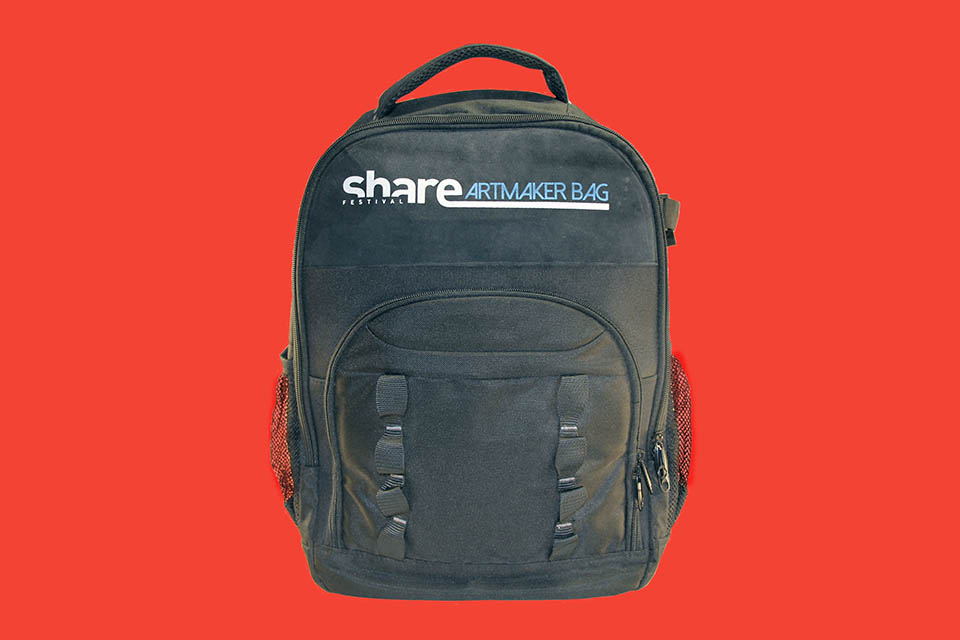 "[…]Infine, e più importante, il nostro Share Festival Artmaker è un regalo. Non è un kit di attrezzi commerciale, e non viene mai offerto in vendita al pubblico. E' un gesto di rispetto pubblico, da parte nostra, ai nostri artisti, ai nostri ospiti, il cui lavoro apprezziamo." B.S.
ARTMAKER 03
"[…]Artmaker è un set di attrezzi da lavoro che non è disponibile in commercio, è presentato nel mondo come un gesto formale di rispetto artistico." B.S.
ARTMAKER 03 – Artworks and Artists
THE NETWORK
The activities of Share Project have been a magnet for artists and creatives who have been investigating, designing and producing works of art connected to the new media for years, creating a network of shared experiences. For three years Artmaker has acted as a bridge with Mini Maker Faire Torino in a network with Mini Maker Faire Torino, Toolbox Torino, FabLab Torino, Officine Innesto, Print Club Torino, Casa Jasmina and other similar players.
With the support of:
Turin Chamber of Commerce, Piedmont Region, CRT, Compagnia di Sanpaolo.
With the patronage of:
Turin City Council